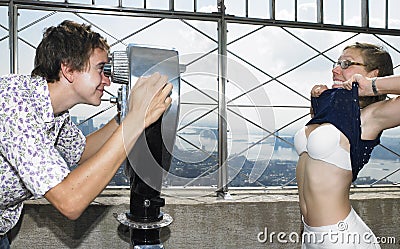 (Side note: )
This picture makes me giggle as the guy is actually looking at her...wait for it.....FACE. YES! ;p)
I have a 70 year old friend who I go skiing with. (she amazingly, snowboards) She regularly kicks my ass as she flies down the slopes.
We rollerblade these days as it's warmer (I am sitting here with a sunburn as we speak.)
She amazes me, the longevity she has, and how long she can stay on those damn skates gliding along as I huff and puff and don't blow her house down haha. (she took my skates to her house to check the wheels last week, said they don't spin right so I have an excuse, maybe I don't feel so bad, but again, she'll
still hit meh' where the Lord split meh. (Translated- she'll still kick my ass...)
Last week I met her at the pool, as I usually do, at a club I frequent. I wore a two piece swimming suit, the top part of a "tank" suit with a split half way down to my stomach.
The minute I saw her, she looked straight at my swimming suit and said "Your invite is showing."
(To be fair, when I told her what she said had offended me, she said her daughter said that- but where did her daughter learn it? Children learn it from parents, and grandparents- it's been happening for generations, and it will TAKE generations to undo it.)
I said "they're just boobs. It has nothing to do with an invite."
Why do we as women do this to each other? Do we believe we are "protecting" each other this way? Are we standing up for each other as women, or shaming each other and not protecting each other at all?
Why are we stigmatizing men this way? WHY are we treating them as if they are nothing but animals?
It's comments like "your "invite" is showing" that excuse men of rape, incest and murder.
How much fabric or how little fabric a woman is wearing should NOT decide her worth, or if she's a "slut" or not.
Women should own their bodies THEMSELVES, not let someone else decide for them, or worse yet, be shamed for them.
There are places Europe, women run around without tops on. Bottoms even. This is not a big thing.
In America where we are supposedly the "world leader" (I say this tongue in cheek, BIG time) we are such prudes. We shame ourselves as women here and allow men to excuse themselves for brutish behavior. Saying men are just like that. It is inexcusable. On both counts.
I keep telling myself I need to move overseas. There has got to be somewhere where it is better than this. I am so exasperated and frustrated by comments that judge me (and other women) as if before anything women "HAVE" to prove that they aren't sluts out to land a man. Aren't we aloud to be comfortable by ourselves? Why is it automatically assumed we have a motive???
Now If I were on a deserted island by myself alone, I WOULD run around naked. Its honestly more comfortable. Heaven forbid I feel the sun on my skin, everywhere.How cool would that be? Does this make me a slut? Or am I asking for a serious sunburn? (Maybe, haha) But the rebel in me loves the thought.
Which makes me think of a goofy Dharma and Greg show where she dances naked to welcome spring(A welcome respite from my rant haha) https://www.youtube.com/watch?v=lsQwrC3AnY8
I read a story the other day about a girl who refused to wear a bra to school. Though she was covered, she was brought out of class. May I ask who was shamed and whose day was really interrupted? Oh, I know the answer to that one. HERS was. Who was looking so hard at her chest anyway? The women there fell behind her and went braless at her school because whose body is it anyway? Yes, its HERS..
And while we're at it.how much fabric a woman is wearing (Or if she is wearing a bra or not) has nothing to do with a man taking "it" out of his pants and forcing it on someone that doesn't want it. Whether shes wearing a berka, full dress, bra or braless. She is not asking for it. That is HIS action, not hers, If hes thinking "shes asking for it".. hes suspect and if he acts on it he's criminal.
Who are we to decide who's fucking asking for it???
Do you want to ask the person if shes asking for it. No? Then fucking go away.
Yes I'm angry. I'm sick of dealing with this ridiculous mindset.
We need to teach our men better. From the cradle to the grave.
Everything else is bullshit.